Skip navigation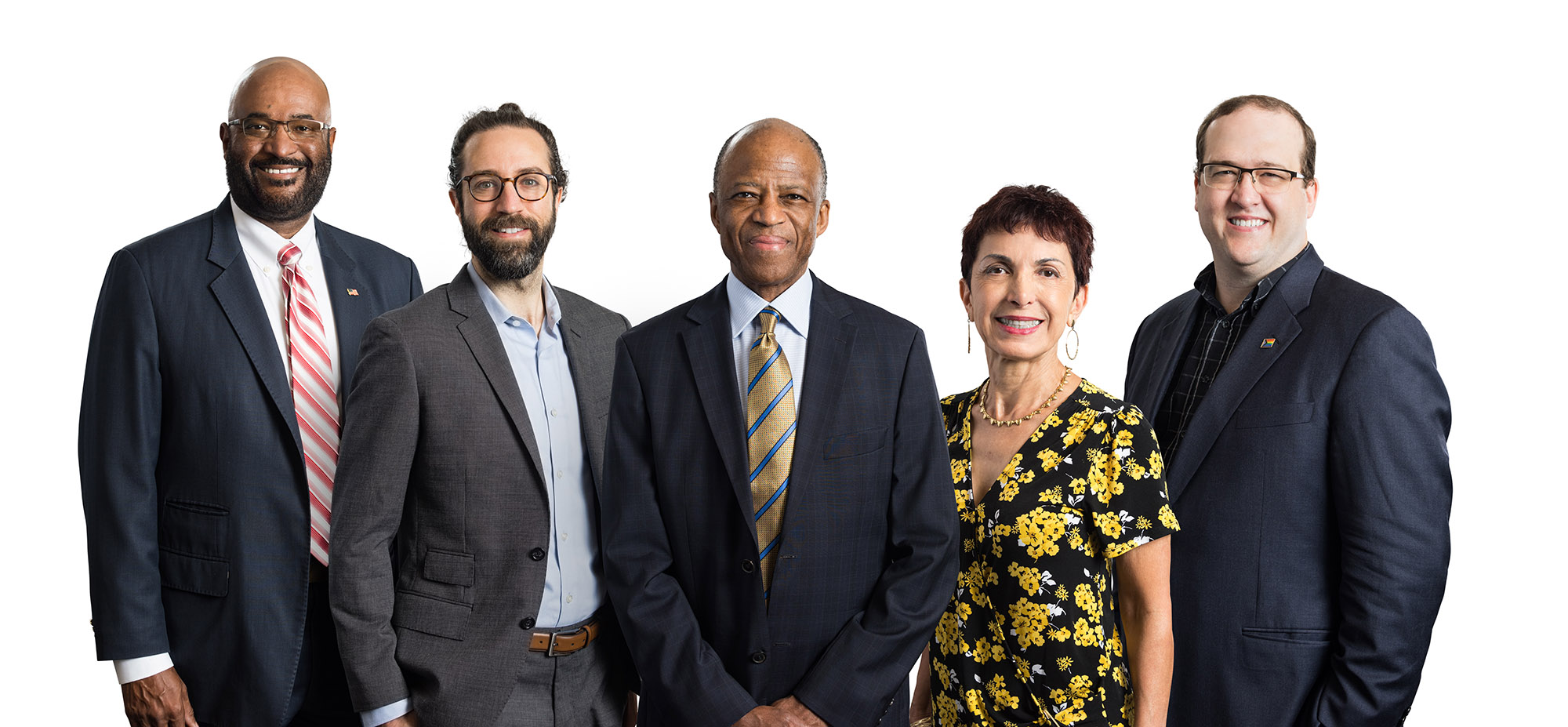 Meet the Board
The Montgomery County Planning Board plans for livable communities by developing large and small scale plans, providing guidelines for the pattern and pace of future development and preserving historic resources throughout the 323,000-acre county. The Planning Board implements plans through its review of development applications and its subdivision decisions. The Board is also responsible for the development and management of Montgomery County's nationally recognized 36,512-acre park system. The Montgomery County Planning Board, together with the Prince George's County Planning Board, comprise The Maryland-National Capital Park and Planning Commission.
Board Members
Close X

Artie Harris, Chair

Before his appointment as Planning Board Chair, Artie Harris was the vice president of real estate at Montgomery Housing Partnership, Inc. (MHP), a nonprofit real estate development organization based in Silver Spring, MD, that creates affordable communities in Montgomery County and surrounding jurisdictions. Previously, Harris was a vice president at Bozzuto Development Company, where he led teams developing market-rate and mixed-income housing projects across the Washington, DC region and beyond. He has 30 years of experience developing multi-family housing and retail facilities, and an additional nine years of experience as a civil engineer managing design and construction projects for commercial high-rise and industrial buildings and power plants. He holds a master's degree in business administration from Stanford University and a master's degree in civil engineering from Purdue University. Harris also holds a certification in Leadership in Energy and Environmental Design.

Close X

Mitra Pedoeem, Vice Chair

Mitra Pedoeem has more than 40 years of expert knowledge in public administration, organization, and leadership for different levels of government.

Mitra began her career as a bridge engineer with the State Highway Administration designing bridges for the State of Maryland for five years, then worked as a structural engineer at the Montgomery County Department of Transportation. In 2001, she became a senior budget analyst with the Montgomery County Office of Management and Budget, expanding her knowledge of government organization and operation. She began work as the Chief of Construction for Montgomery Parks in 2004, managing all aspects of construction for park facilities, then in 2009, was promoted to the Chief of the Parks Development Division to oversee Montgomery Park's $200 million Capital Improvement program. In this capacity, she increased the implementation rate for the Parks Capital Improvement Program from 65% to close to 100%. Her final position with the Parks Department was as the Deputy Director of Administration from 2014 to 2019. In early 2020, Mitra was appointed as the Director for the Department of Permitting Services by the Montgomery County Executive; she retired from that position in December 2022.

Mitra Pedoeem is a 40-year resident of Montgomery County. She is a licensed engineer and has a Bachelor of Science degree in Civil Engineering and a Master of Science in Structural Engineering from the University of Maryland.

Close X

Shawn Bartley

Shawn Bartley, Esq. brings to the Montgomery County Planning Board a wealth of knowledge and experience as a board member for a variety of organizations helping Marylanders improve their lives and their communities.

Currently, he is the Chairman of the Board for the nonprofit Primary Care Coalition and a member of the Maryland Board of Education. Previously, Mr. Bartley was Chairman of the Montgomery Collaboration for Children, Youth and Families, and was a board member for The Shepherd's Table in Silver Spring.

Mr. Bartley is a practicing attorney and is the founder and principal partner of Shawn D. Bartley and Associates, LLC. In 2011, he was recognized by Legal Shield as its top corporate referral attorney in its North American attorney network.

He earned his law degree at Valparaiso University School of Law in Indiana and was a scholar-athlete (football) at the University of Maryland, College Park while earning a bachelor's degree.

Mr. Bartley is a conservative family man and is married to a Montgomery County school teacher. They are the proud parents of two children that attend public schools. Mr. Bartley is an avid sportsman and outdoor enthusiast, enjoying golfing, fishing, baseball, hiking, softball, basketball, football, swimming, archery, and biking activities in the county park system with his family. He regularly attends church with his family at St. Andrews Lutheran Church in Silver Spring.

Close X

James Hedrick

James Hedrick has spent his career working in community development and affordable housing. He completed his PhD in Political Science at Rice University in 2017 and has degrees in both public policy and anthropology from American University and the University of Texas, respectively. Before being appointed to the Planning Board, Dr. Hedrick was an affordable housing consultant, a community college professor, and a long-time federal employee. He previously served on the board of the Action Committee for Transit (ACT), the steering committee for Montgomery for All, and the board of the Twinbrook Community Association, as well as serving as the Chair of Rockville Housing Enterprises (RHE), Rockville's public housing authority. He lives in the Twinbrook neighborhood of Rockville, MD with his wife and three kids.

Close X

Josh Linden

Josh Linden is a planner and analyst for BERK Consulting, an interdisciplinary consulting firm, where he works on comprehensive plans, housing needs assessments, climate vulnerability assessments, equity analyses, transportation pricing and more for a variety of public sector clients. Linden has also worked as a transportation planner at Jacobs Engineering. He has served on a variety of community and nonprofit boards, including the Metropolitan Washington Council of Governments' (MWCOG) Transportation Planning Board Citizen Advisory Committee, co-Chair of Washington, DC's Advisory Neighborhood Commission 6C Transportation Committee, Chair of the Portland, Ore. Bureau of Transportation's Budget Advisory Committee, and as a board member for The Street Trust based in Portland. He holds a master's degree in government from Georgetown University and a master's degree in urban and regional planning from Portland State University.
Last Updated: July 11, 2023